SIX WINS ON LAKE HARTWELL
Saving the biggest bag of the tournament for Showdown Saturday, Drew Six wins big on Lake Hartwell.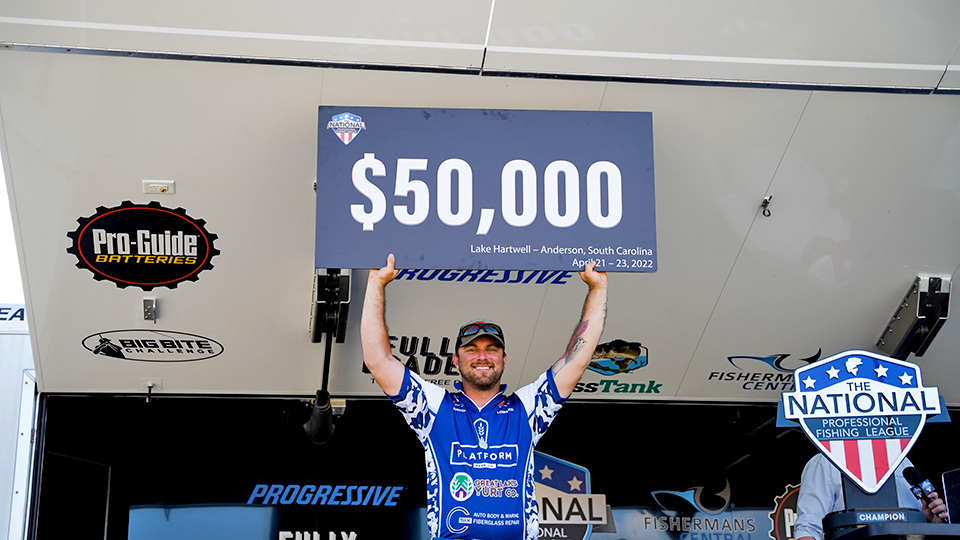 Story by Justin Brouillard | Photos by Tanner & Travis Lyons
Saving the best for last, Drew Six weighed in his biggest bag of the tournament on Showdown Saturday to capture his first NPFL victory. With 17-pounds, 7-ounces on day one, 14-pounds, 13-ounces on day two and 19-pounds, 1-ounce on day three, Six had a three-day total of 51-pounds, 5-ounces to secure the victory.
Drew Six
With and copy and paste method, running the same program all week, Six executed a shallow water sight fishing bite by catching a mix of spawning bass, fry guarders and bluegill chasing bass, different each day. 
"Day one we had all three phases of the spawn, day two spawn was wearing off, and today was a new wave of spawners."
Opting for super light line, Six fished a Z-Man StreakZ 3.75-inch shad bait in the shiner color rigged on a Z-Man Texas eye Jig head on 6-pound Seaguar Tatsu fluorocarbon, all available at Fisherman's Central. Focusing on sharp drops near long points off the main channel, he fished all new water on Showdown Saturday and relied on Lowrance mapping to replicate his deal all over the lake.
"The keys for me this week were that Z-Man bait, the light line and Lowrance C-Map Reveal. I used the exact same jig head and plastic all three days and today I fished all new water and was able to identify spots on the Lowrance map and I would pull up and they all had fish. This is my biggest win and it was a phenomenal week. By using that light line, I was able to fish behind and around people all week and catch some key fish that others were not able to."
Patrick Walters
After losing several key bass on day one, Patrick Walters caught 19-pounds, 6-ounces on day two to take the lead and added 13-pounds on Showdown Saturday to finish the event in the 2nd place spot with a three-day total of 46-pounds, 14-ounces.
Keying on the shad spawn, Walters employed a mix of several moving baits to temp schooling bass. Noting he did have some key areas, but the trick to herring fish is to keep moving and covering water until you run into fish that will bite. 
Jason Wilson
With a three-day total of 46-pounds, 14-ounces, Jason Wilson added 17-pounds, 10-ounces to go with an excellent day one to finish the event in 3rd place. Fishing a primarily shallow sight fishing pattern, the North Carolina pro spent his practice period marking fish on the bed and returned throughout the tournament to catch what was around.
"I had some key areas but basically, I was covering water – I would start at the mouth and work through until I saw a fish and lock down and catch it. I caught a 4 and 5-pounder in one pocket today and I have had a lot of success in previous tournaments on Hartwell, it's one of my favorite lakes."
Bryant Smith
Finishing in the 4th place spot, California pro Bryant Smith wrapped up a very consistent week by bringing 15-pounds, 6-ounces to the scales on Showdown Saturday to finish with a three-day total of 46-pounds, 11-ounces. Fishing the ultimate junk pattern, Smith rotated between herring fish and shallow sight fishing to catch his fish every day.
"The keys for me this week were the really flat points for the schoolers and the flat banks for sight fishing. If there was red clay it was better, but the flat banks and points overall has the most fish. I was randomly looking in pockets and if the bigger pocket had several smaller pockets, that was where most of the bites would come from."
Burning over 100 gallons of gas throughout the event, Smith fished a variety of baits including the most important – a soft jerkbait.
"I was using that Lews Custom Lite reel and that was key for making very long casts with basically a weightless bait. I was easily getting another 10 to 15-yards out of each cast. I ran that Ranger, Mercury all over the lake it got me back here every day."
T.R. Andreas
With his biggest bag of the week on the final day, including a 6-pound, 2-ounce kicker, T.R. Andreas brought 19-pounds, 4-ounces to the scales on Showdown Saturday to finish tied for 5th with a three-day total of 45-pounds, 1-ounce. Sticking to a sight fishing bite all week, Andreas was keying on East facing banks.
"I was basically just moving around looking for fish locked on beds and I was throwing three baits to get them to bite. A 3/0 Gamakatsu hook with a 5/16-ounce weight and 15-pound Seaguar fluorocarbon, I was using both a Yum Dinger and a Rage bug on that, and the third was a wacky rigged green pumpkin Yamamoto Senko. I would rotate through and once I would make a switch, they would bite."
Jason Williamson
Bringing 18-pounds, 9-ounces to the scales on Showdown Saturday, Jason Williamson finished tied for 5th place with a three-day total of 45-pounds, 1-ounce.  Williamson caught 16-pounds, 6-ounces on day one and 10-pounds, 2-ounces on day two before bringing in his heaviest catch on the final day.
Rest of the best:
7 Jesse Millsaps 44-9
8 Jesse Wise 44-6
9 Josh Ray 44-6
10 Mike Corbishley 43-13